https://www.runtastic.com/moment
The Runtastic Moment is an analog watch that allows users to track Steps & Distance, Active Minutes, Calories Burned, Sleep Cycles and Goals. Users can also monitor daily progress directly on the watch face via the Progress Indicator and set vibration alerts to go off after periods of inactivity. Waterproof up to 100 metres, the Moment can be worn during any type of activity – including swimming, diving or even showering. It does not require any charging, as it is powered by a standard battery.
Be In The Know
Steps & Distance
Covering enough ground? Track your daily steps & distance with Moment!
Sleep Tracking
Your sleep duration & phases are tracked throughout the night.
LED Notification
A subtle LED light – tucked behind the 9 on your watch! – keeps you in the know.
Calories Burned
Eating too little (or too much)? Keep an eye on your daily calorie burn.
Set & Reach Goals
Achieve success with Moment by setting, pursuing & reaching goals.
Bluetooth Smart Technology
Your data is automatically, wirelessly transferred from Moment to your smartphone.
Monitor Daily Progress
Effortlessly monitor progress of your top daily goal, directly on your watch face!
7-Day Memory
Data collection's a snap! Moment saves your data for up to seven days.
Long-Lasting Lithium Battery
Charging's a thing of the past! Six-month battery life offers convenience & reliability.
Vibration Alerts
Various convenient, gentle vibrations help keep you up-to-date & on track.
A Design for Everyone

The Runtastic community is incredibly diverse, with users located around the world who speak different languages, are at different fitness levels and have a wide variety of goals. With this in mind, Runtastic recognises that one size does not fit all. The company has, therefore, created the Runtastic Moment in ten unique designs, which are organised into four collections: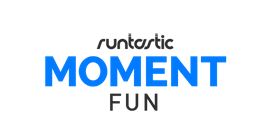 Runtastic Moment Fun: Boasting an aluminium case, scratch-resistant glass and a comfortable silicon strap, the Moment Fun was designed for the playful, active types. It is available in four colours – raspberry, plum, sand and indigo
Runtastic Me App

Last year, Runtastic launched the Runtastic Me app to serve as the dashboard for the Runtastic Orbit wearable. The app has now been further expanded to also work in correlation with the Runtastic Moment. Data from the Runtastic Moment syncs wirelessly to the Runtastic Me app so users can effortlessly view their statistics and daily progress, and engage in gamification features such as Streaks, where they can set and break personal records. The app also provides detailed information about sleep cycles, including duration, and both light and deep sleep phases.